If you rent out any home, flat, apartment, etc - you are entitled to tax benefits if you spend money on making energy savings improvements to the property. The Landlord's Energy Saving Allowance (LESA) was introduced to encourage landlords to improve the energy efficiency of let residential properties. It is an allowance for the cost of acquiring and installing certain energy-saving items.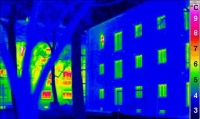 The list of energy saving items includes draught-proofing the building and providing insulation to lofts, walls, floors and hot water systems. For more information on how to go about insulating and draught-proofing, how much is needed and where; please feel free to get in touch with me. A good starting point is to have a Thermal Imaging Survey carried out which will identify the main areas of heat loss in a building - please ask for further details.
As usual, there are rules for claiming on these types of expenditure and you can read up on the details at: http://www.hmrc.gov.uk/manuals/pimmanual/PIM2072.htm
Please note that the above information is not intended as financial advice and you should seek professional guidance on all tax-related matters from your accountant or HMRC.