Reclaim, Re-Use & Re-Cycle:
It makes absolutely no sense to dump perfectly good timber windows in order to fit new PVCu or aluminium ones to an existing building. Additionally, a new building can easily be designed to accept pre-used windows, doors, fitted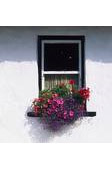 furniture and other joinery *.
It is fair to say that PVCu windows and doors are not as environmentally friendly or as
good-looking as traditional timber windows. The usual argument against timber is that they require maintenance, however modern toxin-free paints and stains can have a very long lifespan and I personally think that giving our windows the once-over every 5 years or so is a useful and healthy thing to do. It is often only when during re-decorating that other defects are revealed – so re-decorating is a vital routine health check for your building!
As long as they are relatively sound, old windows can be upgraded in many ways to achieve better thermal insulation performance. You could consider fitting them with new double or triple glazing units as long as the rebate is deep enough. If not, inner secondary glazing (with a low-e coating) is easy to fit and will have the added advantage of improved acoustic insulation. Old sliding sash windows can have the voids filled with injected insulation. You could also consider heavy curtains, insulated shutters, insulated blinds and roller blinds with low-e coatings.
Some of the above solutions are better than others and a lot depends on the original windows. If you would like to find out more about this subject – please get in touch by using the contact facility or by emailing info@landmarkdesigns.org.uk
* External windows and doors simply need to achieve the minimum standards for thermal insulation as determined under the SAPs calculations for the new home. Fire doors will need certificates to prove their fire rating.